UK investment performance (earlier graph) was bad since the Brexit vote.
The export performance has also been worse than countries the UK should consider to be peers (And Ireland has been performing particularly well)
And you were complaining that people weren't providing data, so I have.
You could also read the reports that have assessed the loss to exports. I have pointed to them as well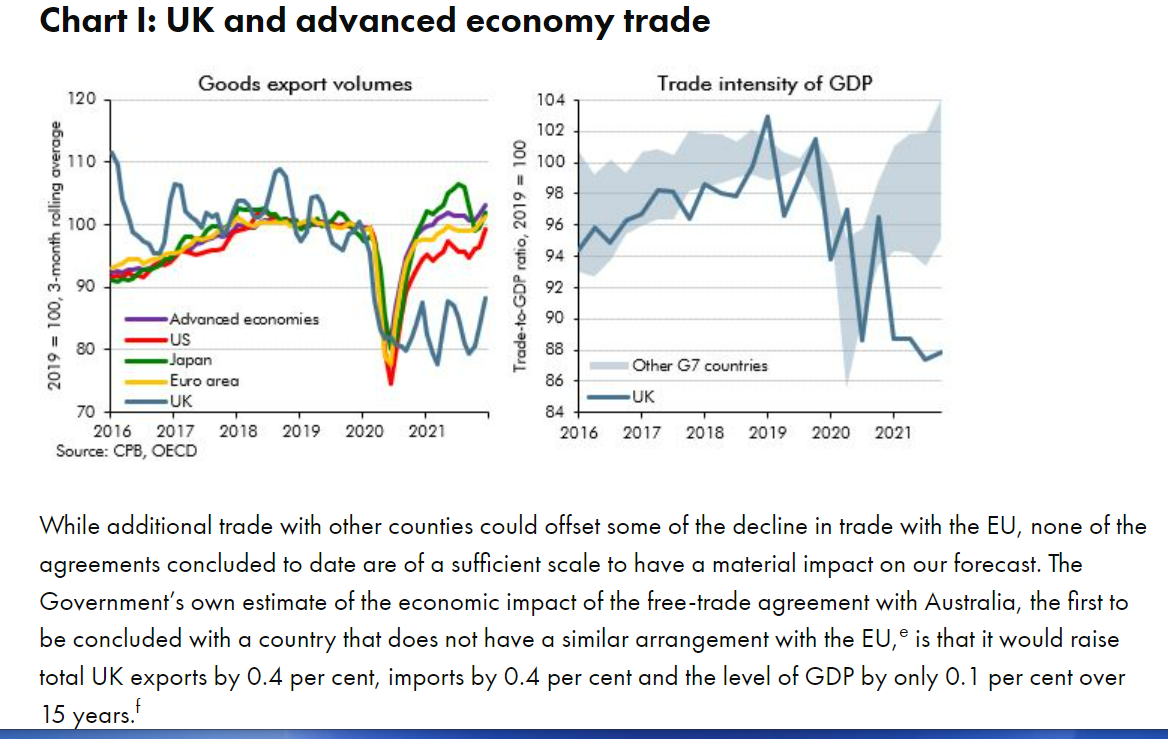 It's not my fault that you keep changing what you want. The raw data is too noisy. The analysed data is too far from the raw. I am not a specialist, so prefer to provide the raw data so my assuptions/corrections are not biasing the data.
https://obr.uk/box/the-latest-evidence- ... -uk-trade/
Comparing our recent overall trade performance with other advanced economies suggests that the UK saw a similar collapse in exports as other countries at the start of the pandemic but has since missed out on much of the recovery in global trade.d UK and aggregate advanced economy goods export volumes fell by around 20 per cent during the initial wave of the pandemic in 2020. But by the fourth quarter of 2021 total advanced economy trade volumes had rebounded to 3 per cent above their pre-pandemic levels while UK exports remain around 12 per cent below (Chart I, left panel). The UK therefore appears to have become a less trade intensive economy, with trade as a share of GDP falling 12 per cent since 2019, two and a half times more than in any other G7 country (Chart I, right panel).